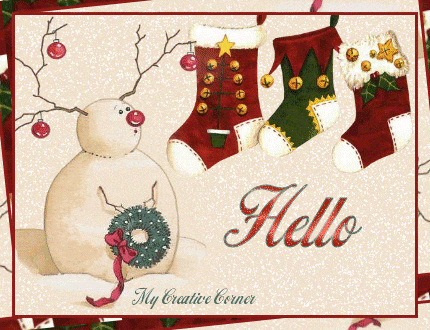 I first of all want to thank Dana, Lisa, Cindy and Lyn for your Christmas cards! Thank you, I love them! :o) Since I haven't been able to get out, I'm not able to send cards out this year. :o( That upsets me. If I am able to get out wothin the next few days, then maybe I can. :o)
We got hit again last night with more snow! So, my car is all snowed in right now. Plus, I doubt it if I could even make it to my car right now. It is a lot warmer now, it says it's 28 degrees out! Heat wave!


The video of the couple dancing their first dance at their wedding was meant to make you laugh. I seen them on the news and thought I'd post it like I would a joke. Too bad not all thought it was funny like I did. Sad.

This whole week, I've been dealing with some pretty bad chest pains. I let my nurse know when she was listening to my heart. Breathing deep and releaseing. Doing that made my chest hurt. It seems to hurt more when I'm exhaling. She called me after a few hours to let me know that she had called my nurse practitioner and told her about it. She said that she didn't know if they would call in a script for me or not, since I'm already on those antibiotics. I have another week and a half of those. So, who knows what is going to happen.
My best friend and her daughter came over last night! :o) It was so nice to see her. :o) She's on cructhes because she had another accident at her work. I worry so much about her.


Poor Madia is still bleeding. I feel so sorry for her. Since she can't have chocolate and Midal, I've been rubbing her tummy a bit. She seems to like that. :o) We were told that she was fixed when we got her, I guess not.

Today looks like I won't do much at all. Not that I don't want to try to, just beyond my control.
Maybe I'll do some crafts. :o) My grandson really wants my model car to play with! lol So maybeI'll work on that. I have a ginger bread house as well. I'd love to do that with my kids! :o)
I'm going now. I hope that everyone has a great weekend! :o) Stay safe too! :o)

Live Well - Laugh Often - Love Much!