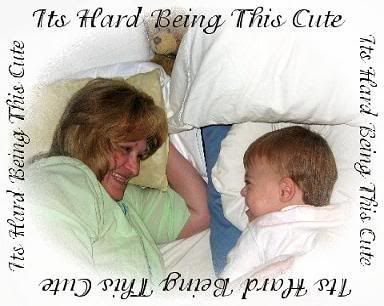 Good morning. Hoping everyone is well today.
Yesterday I have started printing out my journal. It's going to take a lot of time...which I have. It's different to read the begining; it's not the begining at all. Dh had me delete it and then the next day I was able to have it back. I was glad. So, to me, it's like reading the middle of a book first.
This morning at 11:00, the head physical therapist is coming back over to talk to me. I do not like this man. Very arogant! And if he did what he did to me the last time he was here, I'm going to kick him out of my house. A person can only take enough ridcule.


My legs are still the same. I can push in on my thighs and it will make an indent that doesn't go back to "normal" in a few seconds. I'd actually even say it's pretty close to a minute. Because I tease my daughter with doing it because it "grosses" her out. And to do that, it takes about that amount of time! ;) LOL
My sons birthday is on Sunday and the new baby will be Monday! Two happy days for me! My son will be 26! Yes, it does make me feel old! lol And to think when I was pregnant for him, my doctor told me the whole 9 months that I was having twin girls! At my baby shower I even had two pink booties cake! lol I should scan those pictures! When I delivered him, and all that came out was 1 boy! I asked if there were anymore babies in there! LOL :o) They said no! My son looked cute in pink sleepers! :o)



I do feel better getting those things out yesterday. It is hard to just "let" my illnesses go ahead and take my body. I have to keep telling myself to except this. This will be my life now and it is ok. And the weirdest thing is that my mind isn't thinking that way. My mind is ME! I'm still thinking like 'me.' I guess thats good.
What is hard is 'knowing.' I think thats why I started having a huge meltdown last year! My best friend was right, I had changed. And not to the good. I didn't see it then. But I do now. Thats what counts.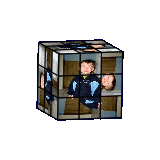 My heart is enlarged and my left lung is damaged. I do wish I could have had that medicine. I'm not going back on what I've said, I just want to be comfortable. Just taking the edge off of things, helps tremedously. And thats what the doctor told me.
I automatically do fight things, thats just how I am. When I was a baby, my nick name was tiger! :o) Because I fought the doctor! lol
Amazingly enough, I remember too! :o)
I'm going to go now. I need to get ready mentally for that guy when he comes. gggrrr!
God bless all of you!


We do not stop playing because we grow old;

we grow old because we stop playing.