.....Just to let you know, nothing in this journal's entry is toward anyone in specific, I use it to write my feelings, and about my illnesess, and in hopes it might help someone else as I do.I do not pretend nor imatate to be someone I'm not.I have to be careful, apparently someone are way too obsessed with 'my' life. And if you might take an entry wrong and feel that it is about you, I'm sorry but It isn't, it just may seem to coincide with your own life. And if there is something in what I write that "offends" you, options; don't read, or realize that this IS real life, and get out of your plastic bubble and learn more about it! I also know that what I write in MY journal, that NOT everyone will agree with me and I don't expect them to! God bless you!......
Good morning on this very cold day here in Ohio!
Yes....I love the saying on the above graphic; you do have to believe in your dreams, or then what do you have if you don't? One of my dreams is to get over all of my illnesses. I know that one day I will do it! With help or alone! I have a good support group that I know will help me through all of it as well. :o)

I have been sleeping sooooo good since I've gotten the oxygen! :o) It has been great! The machine is loud, but it seems to lull me to sleep! LOL :o) I've felt my chest and my nose really loosening up! And here I didn't even know it was like this! I do now! lol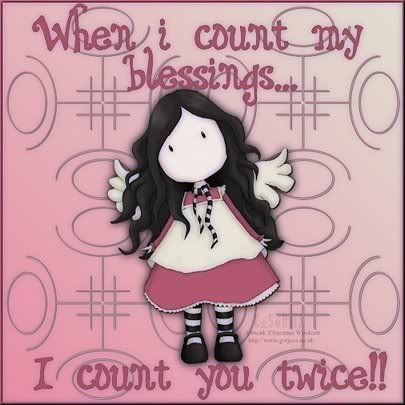 I just want to say how thankful I am to have such a good friend! Thank you (R)! :o)
There are days that or not very good days at all for me. I of course have my good days as well. I seem to be resisting and acknoledging the better things in my life, and all of my blessings. I let my illnesses get to me more so then I should have. I can tell you this, it's hard and a struggle to not let them overcome you! It's a fight! A fight that I'm so very willing to face head on! I will not let them be me. I won't allow them to become me. I need to take back my own body, and I will! I will still have my good and bad days, thats a given. Yes, it is very hard to do when you're in a lot of pain as well. I'm a fighter and I will fight. I don't giveup very easily.


I love what this graphic says as well. :o) So very true isn't it! :o) This is my motto for life! It's not that hard to do either. Just be still and breathe!

I also want to thank Tish Gray for the beautiful card! Thank you! :o)
Yesterday, my daughter and her little family came over to do some laundry. Of course, it was great! :o) I forgot to get pictures again. Geesh! lol My grandson was in such an adorable mood! My daughter has this little baby bump, and it is just too cute! :o) I have to rub it and I talk to the baby! My grandson will kiss her baby belly and share his food with the baby! He'll lay something right nest to her belly button! :o) When he talks to the baby, lol, he talks into her belly button! lol It's so adorable to see! :o) He's going to be a great big brother! :o)

Of course, I don't have any plans today. Bummer! I would like to go to Wal Mart in the next town. I want to see if they have the same kind of comforter I got for my double bed. I'd love to have one for my hospital bed. :o) Maybe I'll call around and see if anyone is up to or able to go with me. :o) If not, I'll drag my son with me! lol
If I'm in bed most of the time, I certainly want to be comfortable. :o)
I really need to let you know that it has been very hard for me to get around J-Land. I feel bad about this. I'm having a few more problems that have been taking over. Just another part of my body that I'm losing.
Last night, I wanted to do some crafts to help. I got out a model car that dh got me. I got the engine all done! :o) I used to put models together with my cousin when I was younger! I think its fun to do. I like a challange! And yes...lol...I did glue my fingers together on both hands! roflol! :o) Now that was too funny! :o) I guess when you shake, you have to be pretty careful with the glue! LOL Oooopsie! :o) But it's done! YAY! :o) I was going to paint after that...lol...but I couldn't because of my fingers! lol Now that was funny! Maybe I'll paint later today! Glad there wasn't a camera on me! :o) Well....if there was, then you all could of had a good laugh too! lol
Anyways....I really want to make sure that you understand that I haven't been able to get to your journal. I'm very sorry. I have not forgotten about all of you, just haven't been able to do a lot of things again, and my arms and hands need to rest for a while. I will get to them when I can, Ok. Just don't give up on me. It's medical, not personal.
I really wanted to thank all of you for your much needed support, and thank you (R) as well! I don't know what I'd do without you! I'm still going private, but I thought I'd wait a few days to make sure that everyone that wants to be included can still let me know. Don't forget to sign my guestbook in my side bar! :o) God bless you all!

Live Well - Laugh Often - Love Much !