Good morning!
I just want to tell you this! :o) Yesterday, my daughter and her husband went to this place in Dayton, (I think) that takes ultra sounds of the baby and still pictures of the new baby! The dvd of the baby is about 20 minutes long and they have beautiful music playing as well. I can't remember if some of the pictures are 3D or 4D, lol...have no idea if there even is a 4D! LOL :o) But, it makes it better to see the baby. Yes, it is deffently a boy! ;)
And boy do I remember when she was pregnant with Kayden...lol....we, Nena and Jeremy, his mom and me, And the doctor was giving her an altra sound to see what the gender was! I'm not sure if she was about the same amount along or not. Well....lol...As soon as the doctor started, on the screen, there 'it' was, in full glory! LOL And I can't believe how I reacted! LOL I got so embaressed, I could feel my face getting red! LOL I don't know why! lol :o) That can be a story I can tell Kayden when he grows up! :o) That was just too funny!



I was invited to go along, but I wasn't up for the drive and my swelling body. Bless them.
Ok...I put this little thingy on my finger thats suppose to check the oxygen in my blood. It's on my middle finger so just incase I really needed to use my index finger. I think I'm getting a bit smarter with all of these tests....like with this one, if I would of had it a few years back I wouldn't have thought about it. Then I would have been in a not so good situation. Here is a picture;


Yes, my hands are swelling....this is it! I was also suppose to really tape it on my finger to make sure it didn't fall off, or I couldn't pull it off while sleeping. So I taped it up pretty good! :o) But, thats not to say that I haven't done other things! LOL I swear, some days it just seems like nothing you do, goes right! :o) I've already changed the settings, turned it off, droped it and it went off...lol....and this morning I was trying to sit down and I dropped the little box unit on the floor and it disconnected on me! LOL I just stood there laughing and didn't have a clue as to what to do next! :o) I pickedit up and pluged it back in to the thingy thats on my finger! And it went right back to where it was! Whew! And I have to wear this until tomorrow morning?! lol Good Lord...lol....I wonder what could be next! lol oohhh, I just thought of one, dropping it in the toilet! I better be careful! :o)


Ok...if theres a next time....it's going on my pinkie finger! lol
Tomorrow I have an appointment to see my arthritis doctor in Englewood. He's the one that squeezs my knuckles! I come home hurting.
I wish that he would either do something with my back/spine, or refer me to someone that will. It really hurts pretty bad now all the time. The last time I seen him, he told me to go see a pain clinic. I have and was told that he didn't have anything else that could help me! Oh well. The pain just shoots right down my spine and to my hips then down my legs to my feet. Thats an 'always' pain. ggrr! Friday, I had a migrain. I haven't had one of those for awhile now. I do have Relpax to take for them. That stuff really works. It sort of feels like I'm going to have another one today. I can always tell because of how my head hurts. If that makes sense. I guess it's like having an 'aura'. I know I have to wait until the headache starts. I can do that. :o)


Today, I don't have anything planned. I wanted to make sure of that because of this test thingy I have on. :o) It's sure is nice out and warm as well. It says on my bar that its 44 degrees out! Cool! I already have my bedroom window open. I slept in my hospital bed last night. I wasn't to wear my oxygen, I could only use my inhaler. So thats what I did. I was also thinking if I needed dh's help, he would be able to hear me if I screamed. I had a hard time sleeping because I'm used to hearing the oxygen machine and my fan. They lul me to sleep. :o)
But, Madia (my dog) jumped in bed with me and snuggled right up to me! I love that! :o) I kind of 'had' to get up because my back/spine was hurting because she had most of the bed and I was up against the bed rails! lol Too funny she is! After I got up, she stretched out and started sawing logs! :o)


I love that graphic above too! All that I've done, has happened, and had happened, has left me the person that I am today. No regrets. One year, my resolution was to face all of my fears. And I did! I don't have any fears anymore. Well, except for all the medical crap.
My headach is starting to set in....I'm finally going now! :o)
Have a good one!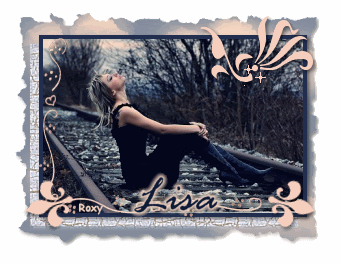 Anyone who sees in his own occupation
merely a means of earning money degrades it;
but he that sees in it a service to mankind
ennobles both his labor and himself."

~A. Lawrence Lowell~

Blessed is the man whose sin the LORD does not count against him
and in whose spirit is no deceit. Psalm 32:2
Q: When is a letter damp?

A: When it has postage dew.

Q: How can you prove that a horse has six legs?

A: A horse has forelegs in front and two behind.