.....Just to let you know, nothing in this journal's entry is toward anyone in specific, I use it to write my feelings, and about my illnesess,and in hopes it might help someone else as I do. And if you might take an entry wrong and feel that it is about you, I'm sorry but It isn't, it just may seem to coincide with your own life. God bless you!......
This morning, I woke up at 2:00! Good grief! :o) So...I got started on a project that my daughter's boy friend asked me to do. ;o) He wanted me to go through my photo albumns and copy some pictures for him of my daughter throughout the years! lol :o) Noooo problem! :o) I posted a few of what I copied this morning. ;o) He's making a slide show for their wedding of her. :o) It's going to be so sweet! :o) Plus...as her mother, I have a few pictures of her that she wouldn't want anyone to see! lol :o) But...I'm not going to do that! :o) Just the cutie ones! :o) So...thats why I have the pictures posted...just wanted to share. :o) I think that my grandson looks alot like she did when she was his age! :o) Well I know he sure does act like her! LOL :o)
Going through those albumns really put me in a state of mind that I really wasn't ready for. It's been awhile since I've looked through them. Yes...we all know that I am a picture-holic and I love pictures! But these pictures are from a different time in my life. The better times. Seeing them put smiles on my face! :o) All of the things we used to do and the places we used to go to and the vacations we used to go on! Wow! :o) We did so much as a family! :o) We had a blast! And I have the pictures to show for it! :o) Thats the happy part! :o)
The weird part is I grieve for the lose of it all. I had a great job and a busissness that I had out out of my own house, that was successful. I so miss working. Plus I did volunteer work for meals on wheels. And we still did all of this! :o) We would go camping, Florida on spring break, all kinds of things. Taking in deep breaths.


Amazing how your life just stops! Just like that! And so did the pictures too.

My physical therapist will be coming this morning...so not looking forward to that! uuhh! Just knowing how thats going to hurt. ggrr! I was thinking about going ahead and calling the pain clinic again. Thats my last resorce on any kind of pain relief.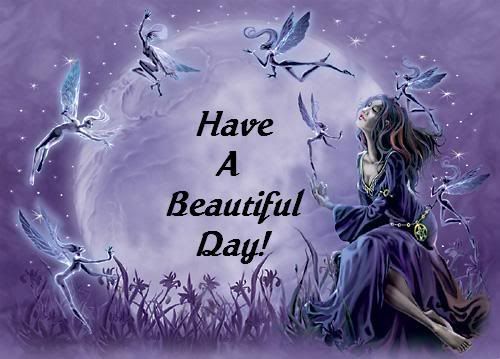 I'm going to leave now. She should be on her way soon! :o)
Gods blessings to all of you! :o)